Discover how to make South Indian filter coffee, the seriously smooth, up-leveled coffee of India. Brewed in an Indian coffee filter. Savored in a traditional dabra & tumbler. Less is more.
Step 1
If you're using the Brass filter, add an extra tbsp.
Step 2
Level coffee and press down gently with plunger.
You can also use your fingers, just be sure to press more firmly (see below pic).
Step 3
Add hot water slowly to perforated line and close lid.
Brew ~15 minutes.
Step 4
Pour coffee Decoction, and sugar if desired, into tumbler.
Careful, the filter may be VERY HOT!
Step 5
Add hot milk, pouring back and forth to aerate.  
On hot days, chilled milk and ice is a must.
Enjoy! 
TIPS FOR A BETTER BREW
Grind Size
Coffee should be ground like a powder - between an Espresso and Turkish grind
Pressing Down
If water passes too quickly from the upper chamber to the lower chamber,
press the plunger down more firmly next time.
Just beware: if you press too hard, the coffee will take forever to brew!
If you still end up with a watery Decoction, use more coffee powder on the next go.
Coffee : Milk
Traditionally
, t
he coffee Decoction to milk ratio is about 1:3.
However, feel free to play around with that if you like it stronger.
Also, we LOVE oat milk and highly suggest it as an alternative to cow
.
---
Also in Bulletin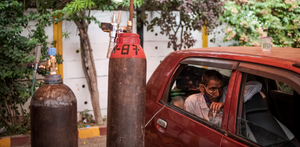 The air may be clearing in the US, but around the world in India, pandemonium and devastation are wreaking havoc as Covid cases surge uncontrollably. Here's how we are choosing to #showupforindia and list of resources for how you can too.
See In Black formed as a collective of Black photographers to dismantle white supremacy and systematic oppression. Through the sale of highly-curated original images from Black photographers, it raises funds to support causes that align with the vision of Black prosperity.